Appealing to today's buyers can seem a little bit tricky but knowing who is buying and how to attract them can be easy if you do a little bit of research. Here's what we are finding that most next-generation buyers are looking for in a home. 8 Home Items That Appeal to Next-Gen Buyers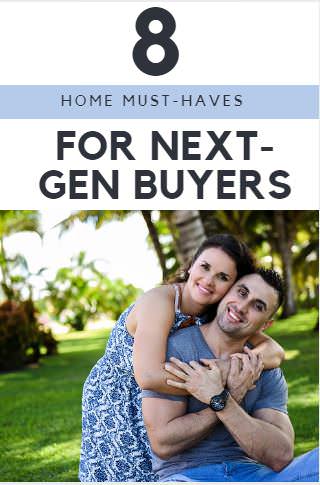 #1. Well equipped kitchen.
Buyers want to see practicality and a great use of space. Quartz or granite countertops are very popular with soft close drawers and cupboards. Lots of additional space is also needed as well as storage space and practical applications for things like sheet trays, spices, and utensils.
#2. Outdoor living areas.
In a Better Homes & Gardens survey, 77% of Next-Gen buyers said they wanted a place to relax and enjoy as an outdoor retreat.
#3. An updated interior.
The next generation of buyers don't have the time, extra money, or desire to renovate. They want things completely done before they move in. This can be an expensive upgrade depending on the age of your house though.
#4. Smart home devices.
Self-programming thermostats, wireless security cameras, and smartphone-controlled devices and entry locks all add to the appeal and attractiveness of today's homes.
#5. Low maintenance flooring, countertops, and decks.
Quartz counters and granite, which are sealed and have very low maintenance options are a big appeal to next generational buyers.
#6. Energy efficiency.
These buyers are willing to pay 2% to 3% more for improvements that could lower their power and energy bills.
Read More: 6 Best Home Improvement Projects that Add Value
#7. Home office for telecommuting.
Nearly 40% of American workers now work from home at least part-time. And next-gen buyers telecommute frequently. There needs to be a space in the house for this.
#8. Separate laundry room.
And the laundry room needs to be close to the bedrooms. No more of this 'laundry room in the basement or garage business'. 55% of next-gen buyers won't buy a house without one.
If you're looking to appeal to millennial's and next generational buyers, these are some of the things to consider when updating your home. If you have more questions or are considering selling, give me a call to find out what your West Bloomfield home could be worth today.