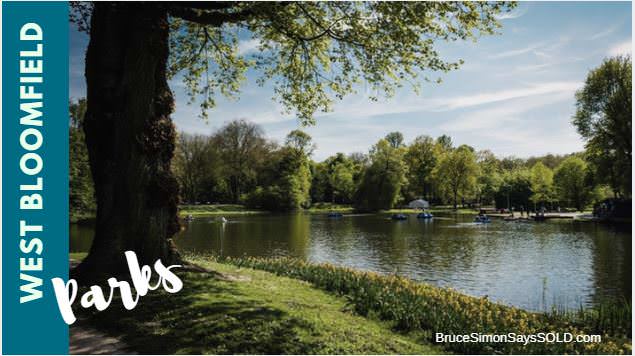 West Bloomfield is an outdoor enthusiast's dream with over 15 parks and recreational facilities, dog parks, hiking trails, and exploratory centers. There's probably something for everyone and every age. Here's a great breakdown of our parks, what they offer, and a map to find them.
Bloomer Park – 7581 Richardson Rd. – open at 8:00 AM to dusk. The former State Park located in the west-central portion of West Bloomfield Township. It has trails in the Red Pine protected Woodland, seasonal restrooms, basketball courts, benches, fishing, a rental Pavilion, picnic areas, and playground equipment for ages 5 – 12.
Bloomfield Knolls – 1750 Henbert – open 8:00 AM to dusk. This 2-acre neighborhood park features playground equipment, basketball courts, benches and a picnic area.
West Bloomfield Dog Park – 5911 Halsted Rd. – open daily, year-round from 8:00 AM until 8:00 PM except for Wednesdays from 8:00 AM until 11:00 AM for maintenance. 4 acres a fenced in area is divided into three sections. One is ADA accessible, one is for all dogs, and one for small bags up to 25 pounds. Registration is required by the city.
Drake Sports Park – 1601 Drake Rd. – open 8:00 AM to dusk. This large park features meeting rooms, vending machines, five tennis courts, a skate park, restrooms, paved trail system with benches, three lighted softball fields, for new pickleball courts, three soccer fields, and to ADA-compliant playgrounds for ages 2-5 and 5-12.
Keith Sports Park – 2750 Keith Rd. – open 8:00 AM to dusk. Adjacent to the Keith Elementary School, this park includes seasonal restrooms, trails, benches, two tennis courts, a rental Pavilion, picnic areas, three softball fields and a soccer or multipurpose field. The playground equipment at the Keith Elementary School may also be used.
Marshbank Park – 2805 Hiller Rd. – open 8:00 AM to dusk. This popular park is known for summer concert series, family camp outs, trick-or-treat trails, and children's concerts. It's one of the largest in the city and includes the Marshbank Lodge, which is a year-round shelter building, the Overlook, a seasonal restroom building with an attached porch overlooking Cass Lake, and a central maintenance facility. It features accessible playgrounds, ball fields, soccer and multipurpose fields, sand volleyball courts, several rentable shelters, sledding hills, picnic areas, trails, canoe and kayak launch, and a fishing pier. Canoes, kayaks, and boards are also available to rent from May 1 through September 30, Fridays through Sundays from 2 PM to 8 PM.
Sylvan Manor Park – 2294 Woodrow Wilson – open 8:00 AM to dusk. This neighborhood park serves as the eastern trailhead to the West Bloomfield Trail and the West trailhead for the Clinton River Trail. It includes basketball courts, a battlefield, picnic area with benches, and ADA-compliant playground equipment.
Farms
Karner Farm – 5911 Halsted Rd. – 8:00 AM to 8:00 PM closed on Wednesdays from 8:00 AM to 11:00 AM for maintenance. This historic Farmstead covers 33 acres and offers community gardens, a dog park, a barn, and extensive wetlands.
Schulak Farm – 6889 West Maple Rd. – open 8:00 AM to dusk. This farm features rentable party rooms and meeting venues complete with on-site house and barn, children's gardens and rain gardens. It makes a beautiful place for a wedding or family reunion.
Nature Preserves and Trails
West Bloomfield Woods Nature Preserve – 4655 Arrowhead Rd. – open 8:00 AM to dusk. Nestled just south of the Pontiac trail in the middle of West Bloomfield Township along the West Bloomfield trail is the preserve. This was the first preserve in Michigan to receive recognition as the Urban Wildlife Sanctuary from the National Institute for Urban Wildlife. It covers over 162 acres with over 100 species of birds, as well as whitetail deer, coyote, Mink, and the red fox. With large oak and hickory trees towering next to beautiful blooming dogwoods, this is one of the most peaceful places in the township. It features benches, seasonal restrooms, picnic areas, unpaved and paved trails, interpretive signs, nature programs, and wetlands with overlook.
The West Bloomfield Trail – the East trailhead is located at the Sylvan Manor Park at 2294 Woodrow Wilson with the central trailhead at the West Bloomfield Woods Nature Preserve. This 54 acre linear Park meanders for nearly 7 miles through the township, around Orchard Lake, Keego Harbo, and Sylvan Lake. You'll find scenic overlooks, benches, mile markers, bike racks and seasonal picnic areas.
Orchard Lake Nature Sanctuary – 4551 Old Orchard Trail – open 8:00 AM to dusk. This preserve has a main trail which connects several other nearby trails through new growth forests and stately old trees. There are a total of five trails that wind around the wetlands that the beautiful just about any time of the year.
Valuable Resources: