Feels good to be safe, doesn't it? Well, according to the National Council for Home Safety and Security, West Bloomfield Township was ranked the 9th safest city in the nation!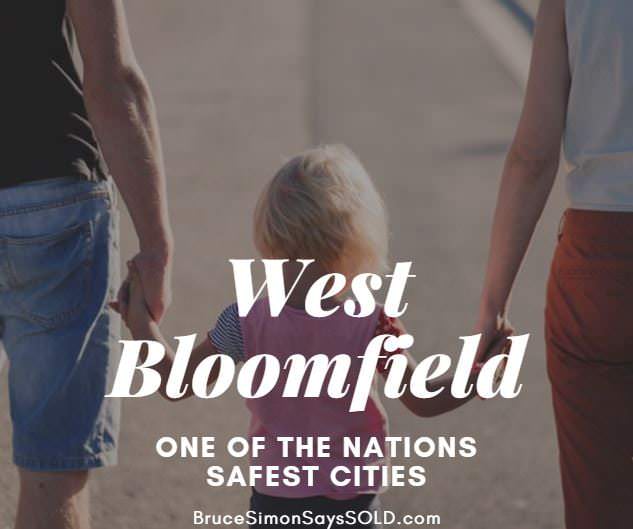 If you're considering moving to West Bloomfield you probably want to know how safe it is. If you have school-age children, the concern is even greater. Not only does this affect your decision to move to a certain city or town, but it can also affect the way you feel after you've settled in a bit. By focusing on safety, people looking for a new city feel more welcome. It's easier to establish their family, improve their lives, and feel a sense of community.
West Bloomfield Township is about 40 minutes northwest of downtown Detroit. It's home to about 67,000 residents and the land contains about 10% water with Cass Lake being the largest lake in the area. West Bloomfield has year-round distinct seasons so you'll get apples from dozens of orchards around the area in the fall, beautiful flowers in the spring, a good dose of snow in the winter, and hot summer days throughout most of June, July, and August.
According to the report sponsored by Alarms.org, and their review from the FBI's uniform crime report statistics along with their own internal research US cities with populations over 50,000 were evaluated. to determine the number of violent crimes, property crimes, and officer count. West Bloomfield Township only had 51 violent crimes and 453 property crimes per year. That might sound like a lot but to give you some perspective, some of the higher cities on the list had over 3000 property crimes and over 300 violent crimes.
We also have some high-ranking schools for academics, safety, and extracurricular activities. The Keith elementary school ranks 9 out of 10 is one of the best elementary schools in the area followed closely by Pleasant Lake elementary school. West Bloomfield high school also received a 9 and West Hills is the highest rated middle school in West Bloomfield Township.
Why live here? Well, if safety and security are high on your priority list, there's no better reason to search for a home in West Bloomfield. Get started here for all homes for sale in West Bloomfield or call me to schedule a showing or request more information.