You can stage, price it right, and do everything else possible to sell a house except for changing the location. If you've been dreading listing your house because it's on a busy road, and you are afraid you're not going to get a lot of action on the house, take heart as there are several things you can do when you're trying to sell a house on a busy street. How to Sell a House on a Busy Street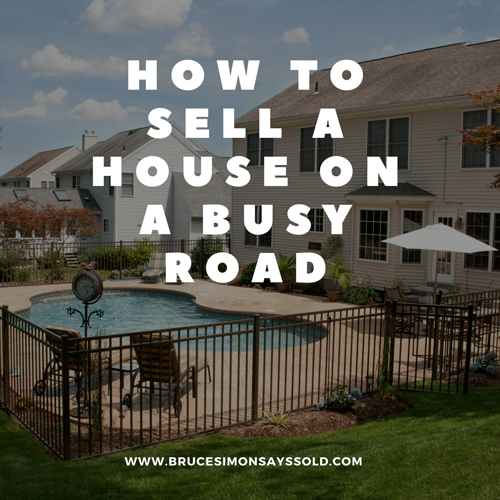 It's important to understand the terminology when listing the home. You can have a home in a subdivision or within a neighborhood setting, a home located on a country road, or a property on a busy road. An identical home situated in a quiet cul-de-sac subdivision naturally might sell for more money than one on a very busy street. Similarly, homes located in neighborhoods also sell for more than those located on a secluded country road. Just understanding the obstacles that you may have can put you in the right mindset for pricing the home and staging it to highlight the features.
With that in mind, here are some things you can do to help your home on a busy street sell faster.
#1. Create a barrier.
There are several things you can do to help separate your home from the street. A stone wall, fence, or even shrubs and trees cannot only create a visual barrier but the sound barrier as well. A water feature might drown out some of the road noise and make the setting look more peaceful.
#2. Focus on safety.
Homes next to busy streets are a deterrent for buyers with small children or outdoor pets. Combat those concerns by building a fence strong enough to keep little ones including our four-legged fur babies safe from the busy street.
#3. Change the atmosphere of the environment.
Just like adding a water feature to drown out some of the street noise, creating a peaceful environment and a relaxing setting can trick the mind into enjoying the space, rather than focusing on the negative of the property. Have a comfortable seating area, lush landscaping, a patio area or outdoor kitchen, or use part of the yard that's not directly adjacent to the street. This works well if you have a side yard or even a front yard that's not facing the street. Read More: Why Trees are Good for Your Property
Related: A checklist for getting your yard ready
#4. Focus on the inside more than the outside.
You want the outside to be inviting, but you can also reduce street noise by installing noise reducing windows. There are great options that insulate against road noise and it will be a benefit to the sale and future buyers.
#5. If all else fails, consider selling it as a commercial property.
This might be something you've never even thought of but if the home can be zoned for commercial, it might be worth it to try selling it as a commercial property either for a counseling or law firm, doctor's office or just some office space. You might be surprised as to the interest you have simply by changing your target demographic.