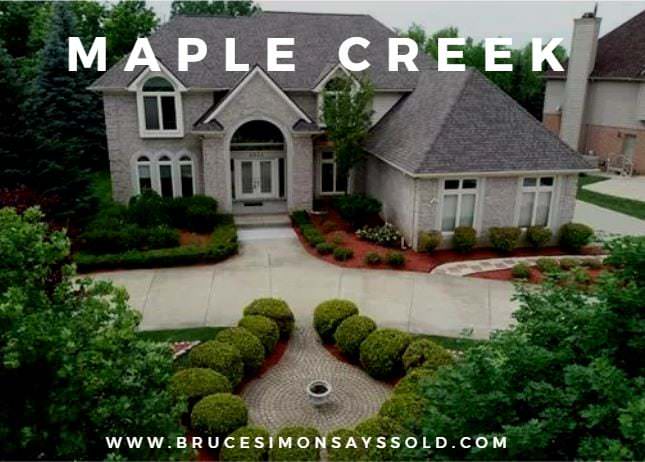 Maple Creek is a popular subdivision located in West Bloomfield just south of W. Maple Rd. between Farmington and Orchard Lake Road. This collection of 271 homes offers a wide range of designs and layouts from 4 to 7 bedrooms and 2 1/2 to 6 bathrooms, some with full walkout basements and brick or a combination of brick and wood exteriors. Homes come with a two, three, or four car garage and layouts in sizes from 2500 ft.² to over 5500 ft.². The homes were built in the mid-1990s to early 2000's and several are backed by green space for wooded forests. Some homes are on lots of up to half-acre. Maple Creek subdivision features a community pool, tennis court, clubhouse and playground.
Nearby Services
Just over on Orchard Lake Road, is the hub for daily services and amenities such as the Shoppes at Old Orchard, dozens of restaurants, markets, T.J. Maxx, Bed Bath and Beyond, Marshalls, Home Goods, Best Buy, and more. The Gateway shopping center is home to Whole Foods Market and Orchard Lake Road leads right into Farmington Hills and Interstate 696.
Schools
Although bordering on Farmington Hills, Maple Creek is part of the West Bloomfield School District and is served by Doherty Elementary(K-2), Sheiko Elementary(3-5), Orchard Lake Middle School, and West Bloomfield High School.
People love Maple Creek for the home sizes, newer design, dramatic brick construction, and privacy, even though it's not a gated community. This is not a throughway neighborhood so you'll likely only find residents or their guests along the roads. There are several cul-de-sac streets, private drives or turnarounds, and side garages, one of the most unique features of Maple Creek. The community can be accessed on Farmington Road or North along W. Maple Rd. On the corner of W. Maple Rd. and Farmington is the Henry Ford Medical Center, CVS, and a few restaurants. This truly is a convenient location just 30 minutes to downtown Detroit.
For more information on Maple Creek, feel free to contact me at: 248-752-3088 or browse available listings for sale and for rent below.
Maple Creek Real Estate