Kimberley North Homes for Sale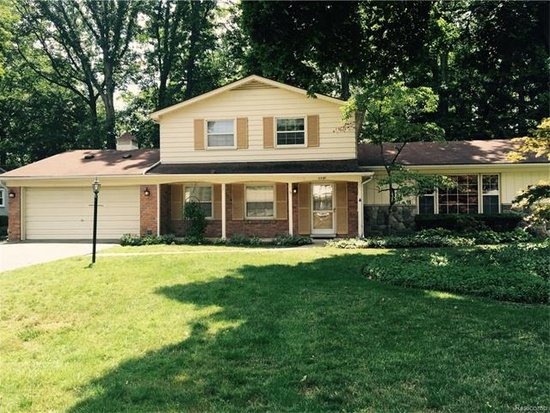 Kimberley North is a subdivision consisting of 257 homes built in the early 1960s, located north of West 14 Mile Road and east of Orchard Lake Road, in the heart of West Bloomfield. Most of these homes are two-story colonials, although there are also many quad-levels, tri-levels and ranches. These homes feature a two-car garage with three or four bedrooms and 2 to 3 bathrooms in sizes from 1900 ft.² to 3200 ft.².  Most homes sit on about a quarter acre lot and feature master bedrooms with walk-in closets, fireplaces, and a brick exterior.
Every year Kimberly North hosts a neighborhood garage sale with 20+ properties offering up kitchenware, sports, electronics, furniture, recreational gear, and more. It's typically held around the 2nd to 3rd week of June.
The neighborhood has its own Improvement Association where they post information for new residents, meeting announcements, community activities, Board of Directors, covenants and bylaws, waste pickup information, street maps, homeowner association fees, property management, election information and great tips on the neighborhood.
Schools & Nearby
These homes are part of the Farmington Public School District and are served by Wood Creek Elementary School, Warner Middle School, and North Farmington High School. The elementary and middle schools are less than a half a mile from most homes in Kimberly North.
Many homes in Kimberly North actually have a high walk score even though most of the homes are car dependent. Shops, restaurants, markets, and more are all within about 5 to 10 minutes from most entrances. The main entrance to Kimberly North is just off of Northwestern Highway and West 14 Mile Road, but the neighborhood is accessible through the northern neighborhoods off of W. Maple Rd. Just around the corner at the intersection of West 14 Mile Road, Northwestern Highway and Orchard Lake Road are several shops, restaurants, a Best Buy, Home Depot, Kohl's, Whole Foods Market, and many other amenities. This makes Kimberly North a great location for easy access to daily errands and necessities.
If you'd like to know more about Kimberly North, please view any and all active listings below or simply contact me at 248-752-3088 to schedule a showing or for a list of properties in West Bloomfield.
Just Listed Kimberley North Homes for Sale
[optima_express_toppicks id="1711683″ sortBy="ds" displayType="list" resultsPerPage="100″ header="true" includeMap="true" status="active"]