Foxcroft Homes for Sale
Foxcroft is a non-gated subdivision in Bloomfield Township just East of Telegraph Road, between W Maple Road and Quarton Road. This collection of 215 homes offer very distinct style and characteristics with properties dating back to the early 1930s. The original developer Dr. CH Gracey wanted to create a subdivision that allows neighbors to enjoy a peaceful walk through the park or the streets without worrying about safety issues. There are three parks located within the subdivision and an association that handles items such as hospitality, civic improvement, and social clubs.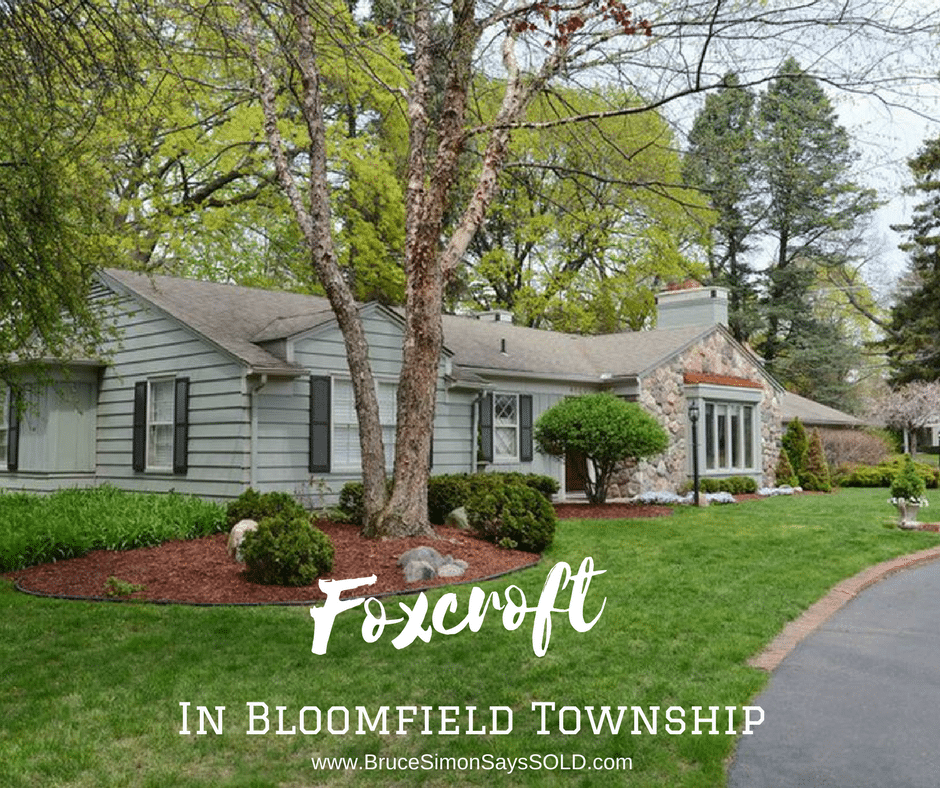 There are four distinct phases of the Foxcroft neighborhood, the first being developed in 1937. Over the next 3 decades, homes were being built in Foxcroft numbers one, two, and three with homes being personally inspected by Dr. Gracey as to maintain style and the characteristics originally required with the community. However, the fourth phase did allow contemporary designs to be built.
Most homes are between three and five bedrooms, with 2 to 3 1/2 bathrooms, ranging in size from about 1400 ft.² to 4,000 ft.².
Foxcroft is home to a lot of notable artists and architects such as Robert Thom, artist and illustrator of the "History of Medicine" and "History of Michigan" series. The Association boasts that they have the highest concentration of artists in the entire state of Michigan living in Foxcroft.
Speaking of the Association, the hospitality committee personally welcomes new residents to Foxcroft, delivering a copy of the directory on behalf of Association members and publishes documents each month to bring residents up-to-date on current subdivision projects, events, and activities. Homeowner fees are about $25 per month, extremely affordable for the amount of attention and community involvement Foxcroft provides.
The Association also maintains several social events, clubs, and parks around Foxcroft. The Foxcroft women's club, which is been in existence since the 1950s, meats several times a year and organizes book clubs, bridge groups, and philanthropy projects.
Properties are being remodeled, renovated, and updated all the time but there are regulations and structural building guidelines for Foxcroft. Be sure to check with the administration for details if you're planning a major remodel or looking to tear down and rebuild in this community.
Nearby
There are several parks in Foxcroft featuring sports courts, green space, playground equipment and rental facilities. Just down the road at the intersection of W. Maple Rd. and Telegraph Road are shops, restaurants, a Starbucks, and more modern conveniences and local golf courses and other entertainment are no more than about 5 to 10 minutes from this community.
If you'd like to know more about Foxcroft browse available listings below or contact my office to schedule a showing at any time.
image above from actual MLS listing in Foxcroft
Foxcroft Homes for Sale